Hochschule Offenburg – Liebe auf den zweiten Blick.
A recruiting-campaign for a presumed secondary university.
The university Offenburg offers bachelor courses on a very high level for electro-engineering, machine building media and other faculties. The problem: many renowned universities in Baden-Württemberg have a bigger reputation and pull off more and more students.
This university is
the
place to study – because it has

everything, what the big players offer, only more familial. 
So we shouted out all the benefits in a youthful way to raise sympathy and convince local graduates to do the absolut right thing by signing up.
The claim "Liebe auf den zweiten Blick" (Love at second sight) reflects the university in an honest and humble way.
The universities scored on job fairs in Frankfurt, Mannheim, Freiberg and Stuttgart with competence and humour
The multiple headlines could be seen on job fair stands, billboards, CLPs, pillars and continue online (at the moment referring to the World Cup – see here). 
CLP`s around Offenburg, Freiberg, Basel and competing university locations followed
Roll-out of more motives on billboards, post cards and online
(here for the World Cup 2018 and regional job prospects)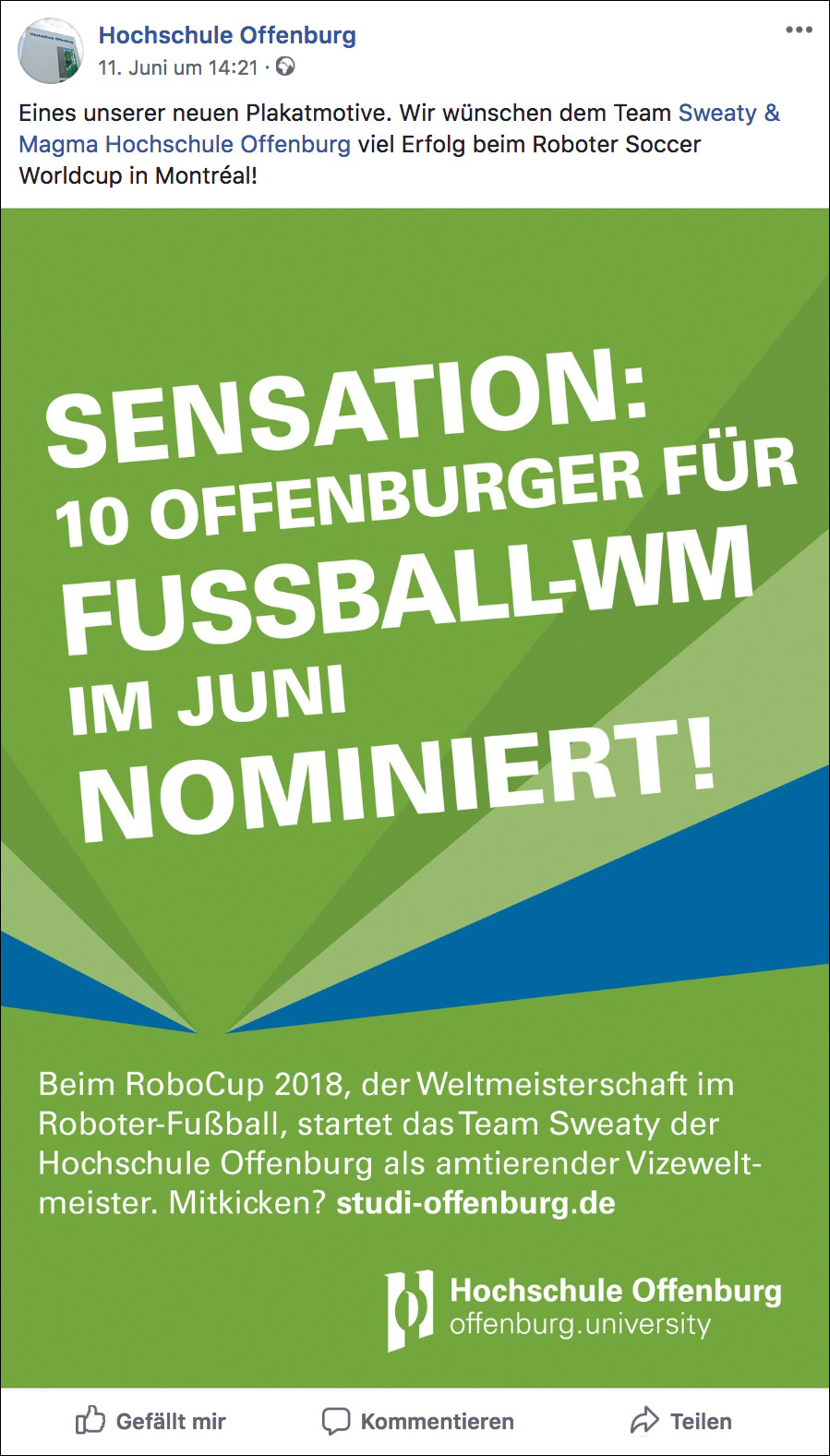 Placed in relevant student cities around Offenburg. The headline refers to a german saying logical translated: "Duck to the bosses and kicking the ones under you?" 

It announces an economy course at their campus about ethical behaviours.
Thanks to excellent storytelling the quite technical content has become fun to read, so the User Experience here is more guided by words than icons.

When reading, you really want to go down and see all what the university is about to finally hit

 the pursuing buttons which lead to the courses of interest. Many self-assuring motives seduce to share, a 

faculty theme accordion give a quick overview, a practical map with nearby job occasions revaluates the area whereas another one shows the high density of leisure and cultural offerings.